synnack vs Torrent Vaccine @ Kinetik 2010
by Clint on December 31st 2009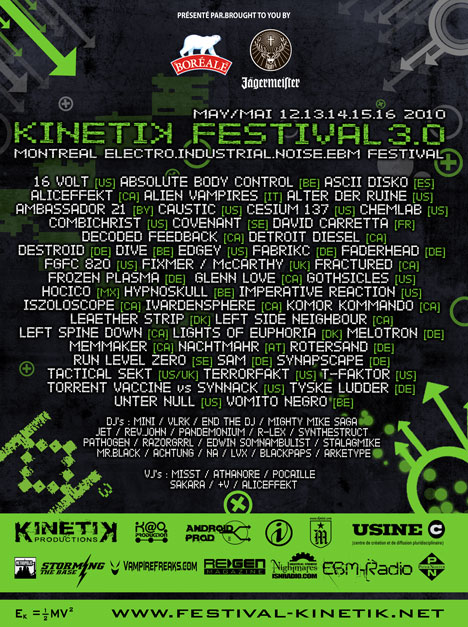 synnack versus Torrent Vaccine is confirmed to perform at
Festival Kinetik
in May 15th 2010 in Montreal.
Festival Kinetik is brought to you by two of the three original producers of
C.O.M.A
- KAO Production and I Prod with the addition of Android Productions. Following the success of 2007 edition of C.O.M.A (more than 1400 people during the week end), the team has taken what they started with C.O.M.A and expanded it to the likes of the largest European electro-industrial festivals like Wave Gotik Treffen and Mera Me Luna.
Honestly, this is the most professional, well-run dark electronic music festival to ever occur on the North American continent and I am very excited to take the stage there again. This time we are performing in the "Cafe" bar area, which is where all the fun is anyway!!
Usine C
.
1345, Lalonde Avenue
Montreal, QC H2L 5A9
(514) 521-4493
Also performing the same night as us:


Hocico [MX]


Dive [BE]


Tactical Sekt [US/UK]


Hypnoskull [DE]


Ambassador 21 [BY]


Terrorfakt [US]


Destroid [DE]


Nachtmahr [AT]


FabrikC [DE]


Memmaker [CA]


Ivardensphere [CA]


I will likely be performing in Destroid this night as well!
For more information, visit the festival website at:
http://festival-kinetik.net
.
blog comments powered by