synnack @ b-vision
by Clint on June 9th 2010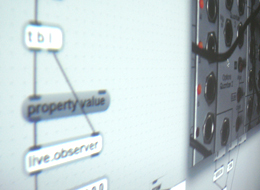 synnack will once again perform at
b-vision
, this time on Friday June 25th, 2010.
b/vision is a boston-based collective of local artists, musicians, students, and supporters focused on combining art, music and technology. Their events are sponsored by
Ableton
and feature live musical performance, visual art, projection mapping, and installation sculpture (often using
Max for Live/Jitter
).
In addition to the synnack music and video performance, the June 25th event will also feature tom&kate, Dice Motion, Ricardo Galvan, Jinku Kim, Brite Lite Brite, Javier Cruz, Evan Sutton, Sid Lees, and Guilty Gunn with live projections by Aaron Kovalscik and art installation by Christina Watka.
Get details and rsvp at
http://www.b-vision.org/
blog comments powered by