Exclusive track on You are Here
by Clint on November 1st 2008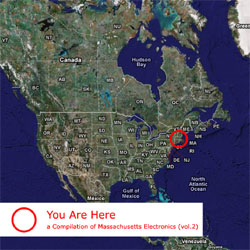 A new synnack track was released this week on a free mp3 compilation, "You Are Here: a Compilation of Massachusetts Electronics (vol.2)".
The compilation is the second in a series highlighting Massachusetts-based electronic artists and was compiled by David Dodson (alias Deftly-D of
Voidstar Productions
) for
Connexion Bizarre
in September 2008.
Continuing the eclectic mix from
Volume 1
,
Volume 2
contains a unique mix of pop, digicore, power electronics, IDM, ambient, down tempo and harder to define music.
And of course, they're both FREE!
Download Vol 2 now at
http://www.connexionbizarre.net/releases
.
The synnack track is titled "0fa6862a49aa75f2cac6342697dcd967 (MD5)" and was written and produced by Clint of synnack while on a train between MA and NY in September 2008 in memorial of Don James Audibert, Sr. who died instantly on September 26th 2008 after being struck, head-on, while riding his motorcycle.
blog comments powered by