New Max for Live Device: getLivePath
by Clint on September 25th 2012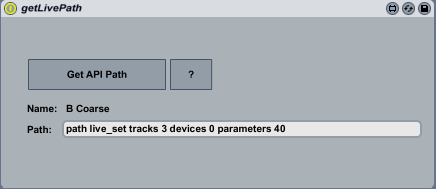 I posted a new Max for Live device today to demonstrate the "live_set view selected_parameter" for use in a Max for Live lecture at the
Decibel festival
in 2012 titled "Demystifying Max for Live". There are many free "LOM Explorer" utilities out there and like I said, the LOM documentation is already pretty good. This device does not attempt to replace any of those. It's just a simple utility that I use as part of my M4L classes that you may find useful to demonstrate the same concepts. This device quickly tells you the "live path" of a selected paramter.
For those who build thier own devices or edit others that use the Live API, you very often need to figure out what the particular path is in the API to a specific parameter so you can get or set or observe it's value. Though the Live Object Model (LOM) documentation is great, the process can be sped up quite a bit with a simple utility device like this.
This device makes no sound or generates no MIDI. If the above paragraph was confusing, this device is probably not for you.
Usage:
1. Click Learn, find the parameter you want to know the path for.
2. select the path in the text box and copy it to the clipboard
3. Paste the path into whatever device you're working on...
Download it here:
http://www.maxforlive.com/library/device/1293/getlivepath
blog comments powered by