Great Max tips from Cycling74
by Clint on April 18th 2011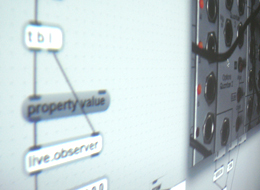 Check out these videos from Cycling74. Awesome tips for getting the most out of Max.
http://cycling74.com/category/articles/did-you-know/
For example: Did you know you can build Max for Live devices that will work on Mac and Windows, even with third-party externals?
See:
http://cycling74.com/2011/04/12/week-11/
I've known all about freezing devices with exeternals but it's amazing how some of the simplest things go unnoticed.
For example, check out Week 13. I had no idea you can do this and this saves to much time!
Using the shift key to create multiple patch cords to and from a single object:
http://cycling74.com/2011/04/18/week-13/
blog comments powered by