synnack @ Forced Music Fest
by Clint on March 9th 2007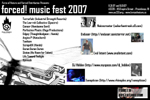 synnack will perform at the Forced Music Festival in Providence, RI occurring the weekend of August 31st and September 1st 2007.
Formerly known as the "Providence Noise Fest" or "Providence Industrial Fest", the Forced Music festival is the premier event in the north east to showcase music featuring harsh electronics. Every year gets more eclectic and features an array of vendors, DJs and performances.
Also confirmed for 2007 are industrial/noise favorites such as The Law-Rah Collective, Terrorfakt, Enduser, and Noisecreator (just to name a few).
This festival happens at
AS220
located at 115 Empire St. Providence, RI USA.
More information can be found at
http://www.forceofnature.cc
.
blog comments powered by